Frequently Asked Questions
Everything you need to know about the product and billing.
What is The Modern Directory?
Created by industry veterans, The Modern Directory is a B2B platform revolutionizing the way we promote, source and build connections within the fashion industry. With domestic and international resources all on one platform, it's never been easier to grow your business or attract new eyes to your company.
How does it work?
Highlight your company's capabilities and achievements to attract business.
Search our dynamic and detailed database to fulfill your specific needs.
Forge relationships across the fashion industry to grow your business.
I need help choosing a category on "Choose Your Journey"
We understand that picking the category to register you company under can be confusing, so we are here to help. Below is a guide of the most common businesses within each category.
A Brand has a product line. They may have retail locations as well, but they sell their own product.
A Retailer has a physical location or online store and sells other brands products.
A Manufacturer is someone who aids in producing the product, whether that is supplying or producing the material and trims or producing the physical product.
A Service is any business that helps in the growth of all products outside of manufacturing. If your business helps in the creative aspect before the product is made, or in the marketing/selling of the product, you would be considered a service.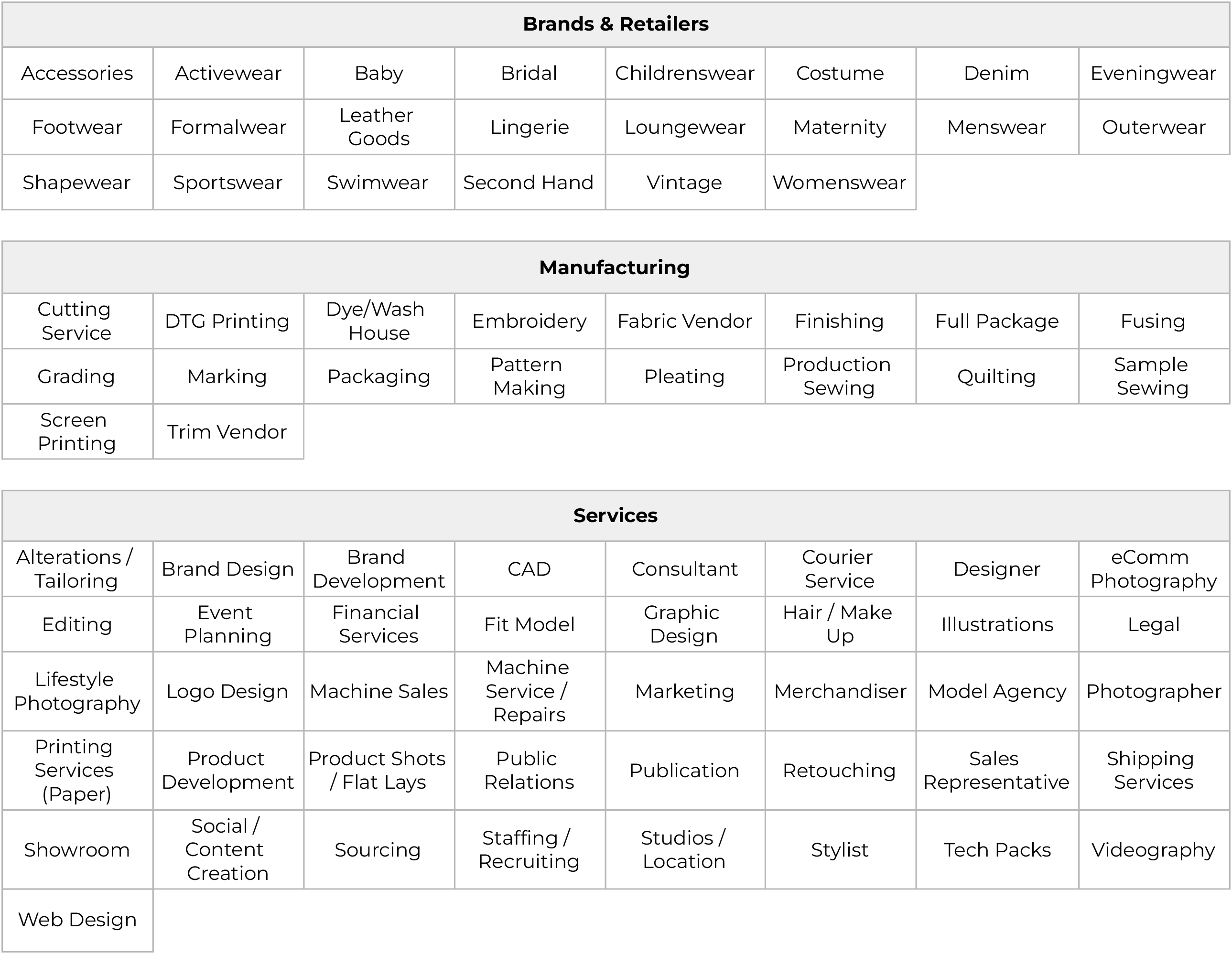 Do I have to pay in order to access the website?
Yes. We offer a basic and premium monthly subscription for Brands, Retailers, Manufacturers and Services. You can view our pricing plans. We also offer a Personal plan for individuals who are just starting out or are wanting to explore their options.
How do I submit my company?
Start by clicking the "Submit Your Businesses" button in the upper right hand corner of your screen. You will need to create a username and password. Then you will be prompted to choose your journey based on the type of business you are. Fill out the application, select your desired plan and input your payment information. After submitting your application, our team will review your application and you will be notified via email that your company profile is live.
Why can't I sign in?
If you are having issues logging in, please make sure to confirm your email and password are correct. If you are still having issues logging in, please email info@themoderndirectory.com and provide us with your company name and email address associated with your account.
What is the application process?
After signing up by entering your email and creating a unique password, you will be directed to choose your journey. On that page, decide which application applies to you or your company – Brand/Retailer, Manufacturer, Service or Personal.
We strongly encourage you to provide as much information when filling out your application. Highlight what you or your company make, do, or sell. Upload examples of your work. The more information you provide during the application process, the more information that is accessible on your profile to attract new business and relationships.
How do I update my profile?
You can update your profile under the accounts tab, at the top right corner of the screen. Once in the account overview, click on the "Profile" on the left hand side. Updating your profile will have the same look as the application. Follow the prompts and update or change the details as you desire. At the end, click "Update" and you will see the changes on your profile.
Can I upload more examples of my work?
Yes! During the application process, you are able to upload up to 10 example photos of your work.
Upload a video of your work by providing a Youtube or Vimeo link.
How long after submitting my business does it take for my application to be approved?
Please give our team 24-48 hours to review your application and make sure everything is perfect and then we will approve your application and make your profile live!
Can I have more than one profile?
We understand that there are times where a company has multiple different divisions, like being a Brand and a Retailer or a Manufacturer and a Brand. At this time, if your company has multiple divisions, it would require you to create separate profiles for each division. Please reach out to us at info@themoderndirectory.com and we can help make sure your accounts are linked.
How do I update the payment method?
You can update your payment under the accounts tab, at the top right corner of the screen. Click "Account", then "Subscriptions", then "Update".  Enter the new credit card information and once done, click "Submit".
What payment methods do you accept?
We accept all major credit cards: Visa, Mastercard, American Express, Discover.
How do I cancel my subscription?
Can I upgrade my account?
You can upgrade your account in the accounts tab, at the top right corner of the screen. Click "Account", then click "Subscription", then "Change Plan". A pop up will appear with a drop down menu for you to select the plan you would like to change to, either the Basic or Premium plan. It will list the prorated amount for the current month, and show the recurring monthly subscription price. Select the plan you would like to upgrade or downgrade to and click "Select Plan".